OTG17 - Assignment & Deliverables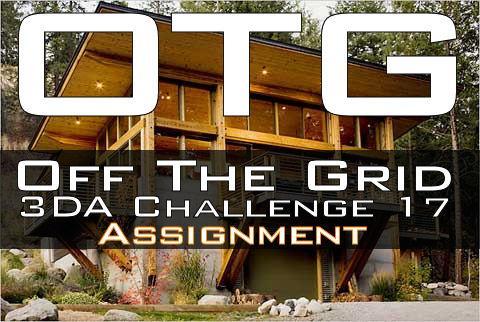 OTG Challenge 17 Assignment: 3DA proudly presents "Off the Grid" Challenge 17 in our series of rendering competitions. With well over $15,000.00 USD worth of prizes, this looks to be our biggest challenge yet!

Intro:
Sustainable living is a lifestyle that attempts to reduce an individual's or society's use of the Earth's natural resources and his/her own resources. Practitioners of sustainable living often attempt to reduce their carbon footprint by altering methods of transportation, energy consumption and diet. Proponents of sustainable living aim to conduct their lives in ways that are consistent with sustainability, in natural balance and respectful of humanity's symbiotic relationship with the Earth's natural ecology and cycles. The practice and general philosophy of ecological living is highly interrelated with the overall principles of sustainable development. Sustainable design encompasses the development of appropriate technology, which is a staple of sustainable living practices. – Wikipedia

The term off-the-grid (OTG) or off-grid refers to living in a self-sufficient manner without reliance on one or more public utilities. Off-the-grid homes are autonomous; they do not rely on municipal water supply, sewer, natural gas, electrical power grid, or similar utility services. A true off-grid house is able to operate completely independently of all traditional public utility services. – Wikipedia

Scene:
You have traveled the world, seen wondrous sights, and still, when you approach this habitat isolated and secluded in a breathtaking picturesque setting, you have to stop and gaze! Never before have you seen such a structure harmoniously coexisting at peace with its surroundings. This residence instills a sense of awe and you find yourself suddenly envious of its owners. You are inspired to live off the land, to help reduce the burden mankind has put upon this earth. Mentally your "creative drive" vows to design something equally as sustainable and adaptive to the environment! You set off to find the perfect site for the "Off the Grid" home you envision and to responsibly harness the resources the site offers.

Assignment:
Create your ideal setting for the "Off the Grid" home you are given digitally in 3D. It should portray that which is inspirational about sustainable architecture/life style and touches us on some subconscious level. The emphasis should be on the context of the residence in an "OTG" location. The structure is to remain much as it is in the original model/scene, you are allowed to make modifications, but the structure must be recognizable in the end. The real challenge is design a site/setting/landscape that is spectacular and alludes to man living at one with nature. The site can wrap around, surround, hug or even highlight the structure in some way, can partially hide the structure showing just a glimpse, teasing the viewer, it is up to you to decide. The site is to be located on earth, we will allow some flexibility in chronological time, if your technology is a bit advanced for example if it is based on sound technology we will allow slightly futuristic images. Your image could also be a bit 'old school' if you chose to demonstrate a historic scene using techniques and not technology. With that said, we do not want to see space monsters or dinosaurs; this is an architectural visualization contest not fantasy or science fiction.

The challenge will be to add sustainable techniques and technology to your scene image demonstrating that the dwelling is "OTG". You will need to research things like passive solar techniques, or technological means such as solar cells, hydro generators, geothermal heat pumps.......... There are a lot off techniques out there, recycling, composting......

Find some elements of sustainable "OTG" living that works well with the picturesque site/landscape you are going to create for the structure. Everyone has one basic constant, the general structure we provide, the setting and some indication of a sustainable existence is your challenge.

The final image should portray your design intent. It should be a visual treat that is in character with the methods of architectural visualization.

The scene is to be a new piece of work for this contest. No pre-made/purchased models or images, with the exception of architectural entourage such as people, cars and plant life. In addition commercial textures and shaders are acceptable. Photos of existing buildings, etc. are to be used at a minimum and only as backgrounds; the majority of the work in the image is to be digitally created in 3D by you. Whatever you employ, the majority of work must be generated in 3D with the exception of trees, plants, people and entourage in general.

Hints:
"Sustainable Architecture" is the theme of this contest. While entourage and characters can add to the scene, they should not be the focal point and detract from the architectural imagery.

Make this a 'marvel to behold' but be sure that the scale is relevant to the subject matter. Unique and environmentally harmonious dwellings are more intellectually stimulating than just grandness of scale, we want to be able to make out details of the structure and its surroundings, an aerial from a mile away will most likely fail in the outlined assignment. Use your design talents to create something exciting and thought provoking.

While the goal is to allude to a sustainable OTG environment and lifestyle, the techniques and technology do not have to be blatant and in the viewers face, it can be subtle and creatively done. Just throwing a solar panel on the roof and calling it good does not suffice, a solar array supported by a structure harmonious with the surroundings is a good start.

Example: Your structure is placed in a tree or pole structure imitating the essence of a tree and some upper limbs have wind turbines harnessing the wind, a nearby waterfall and stream have hydro powered turbines (water wheels) for constant power source…….. all set in a picturesque setting. This tree house scenario is just an example, you could pick a harsh environment if you choose, or any earth bound site that you like.

Prizes:
Please use the following link to view an up to date list of the prizes. In the case of unforeseen complications we reserve the right to substitute the prizes. Prizes are at the following location:
PRIZE PAGE

Contest Process:
This Contest will be a WIP (Work in Progress) Contest. Participating parties are required to submit WIP, several milestones are required, from the initial concept model, lighting study, texturing in progress all the way to the final Entry. This is so that everyone can learn from one another and shall take place in 3DAllusions Contest forum thread. The WIP portion shall take place in the 3Dallusions forum within the topic titled "Off-the-Grid Challenge 17". Contestants are to start a thread titled as such "Artist Name – Scene Title", for example: "John Smith – Glade of Light". The 'Deliverables' as outlined below shall be posted within this thread along with other member's comments on the project. A medium sized version of the final image shall also be submitted to the 3Dallusions gallery for viewing of the public and ranking by the members. The final Gallery entry and the large format TIF/PNG image submission to follow the same naming conventions as the forum thread.

The process is as follows:

• Enter the Contest, registered members only, registration is free.
• Submit your work in progress images in the appropriate forum, on a regular basis.
• Participate in the community by critiquing other Contestant's works in the respective forum.
• Submit your final medium sized entry in the Contest Gallery, and the full sized image via FTP by the contest deadline.

Note: You are required to submit work in progress images, obtain feedback and give feedback to other Contestant's in the WIP challenge. This is a requirement of the Contest and failure to do so may result in penalties during final judging. Community interaction is essential!

The contest will last approximately two and a half months, starting November 1, 2011 and ending January 16, 2012 at midnight GMT. All entrants must Enter by December 15, 2011 by posting their first milestone concept in the forum as outlined by the Contest Rules and Deliverables. Judging to commence immediately afterwards, and will complete in as reasonable amount of time as scheduling allows to give each finalist due consideration.

Deliverables:
Each challenger is required to submit images (120kb 800x600 max or as per the upload restrictions of the forums) for the following milestones:

• Modeling - JPG (online)
• Lighting- JPG (online)
• Texturing - JPG (online)
• Rendering - JPG (online)
• Post Effects and Compositing, JPG (online)
• Final Image - JPG (online album/gallery) AND TIF/PNG (FTP)

Multiple requirements/milestones may be displayed in a single image and items like 'Post Effects' may not apply to your entry. In any event the artist must show their progress from start to finish. Any Contestant that does not demonstrate the above process by the contest deadline will not be considered for final judging.

Contest Pages:
• Assignment
• Rules
• Prizes
• Judges
• Challenge Forum
• Challenge Models

Last edited by Russell L. Thomas; 10-30-2011 at 12:52 PM.