TBC18 - Submissions Terms and Rules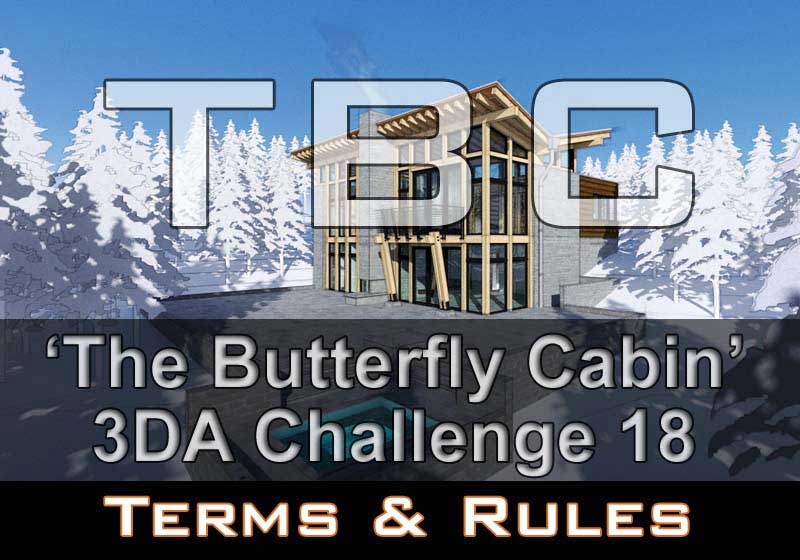 The Butterfly Cabin (TBC) Challenge 18 Terms and Rules: Here you will find the Challenges rules, terms and conditions along with basic instructions on how to participate and qualify for final judging.
Submissions:
Submissions will be online at www.3dallusions.com forums "TBC Challenge 18": Contest Forum. All submissions will be in JPG format (120kb 800x600 max or as per the upload restrictions of the forums), the final images, which will be JPG format (120kb 800x600 max or as per the upload restrictions of the Contest Gallery), to be submitted here: Contest Gallery

In addition, provide print-resolution PNG/TIF (2133x1600 or as large as your software package allows at 300dpi, no up-sampling of images for increased resolution), no exceptions taken.
Large resolution PNG/TIF images to be submitted at: 3Dallusions FTP - ftp://69.46.40.30

USER NAME: contest.thrdallu PASSWORD: contest (Ignore error pop up box if it appears)
Contestants may choose to provide additional images with their final Main Images/Money shots, but the main images must meet contest requirement size (no logos or graphics may be imposed over main images) and final overall composition size to be main image size requirement PLUS any additional images, borders and titles Contestant chooses to add.
There will be no exceptions for late entries outside of hardware or software failure on our end. All deadlines are based on GMT (Greenwich Mean Time) and will conclude at midnight/11:59+1PM (GMT without location modifiers) of the dates given. If contestant post one of the requirements by the deadline but and post remainder consecutively after the deadline but matching the image posted on time, we will show some latitude within reason.

Judging:
The Judges will review the entries based on the Assignment broken down by 1/3 design, 1/3 implementation of design (modeling, texturing, lighting and composition), 1/3 aesthetic/artistic impact of image and award their selection for Grand Prize, Runner Up, Honorable Mention and two additional places in as timely a fashion as possible. In the event that any of the judges must resign their position, we reserve the right to substitute with an appropriate replacement. The panel's decisions are final.

Terms:
By submitting any entries to the 3DAllusions "TBC Challenge 18" Contest, artists are giving rights for 'Sponsors' and 3DAllusions to use the material for marketing purposes in the context of the 3DAllusions "TBC Challenge 18" Contest. For example: a Sponsor and 3DAllusions may use your entry with "credits to the artist". Artists retain ownership of the material. By submitting an image, you agree to give us permission to display the image on our website(s) as described above. The image will remain your property, but you cannot claim any right or compensation for any reason related to the display of your image on our website(s). In addition no future arrangements between the artist and other parties shall nullify this agreement.
No artwork will be used in any fashion without credit given to the artist.
No artwork will knowingly be sold, in whole or in part, by Sponsors or 3DAllusions.

The artist will be asked permission for the use of their artwork if outside of the scope of the contest or the above-mentioned purpose(s).

Rules:

• 3DAllusions members including moderators but excluding Administrators may enter the 3DAllusions "BTC Challenge 18" Contest. Membership is free of charge.

• All work except for that stated below is to be an original piece by the contestant.

• Pre-fabricated models are not allowed to be used, with the exception of architectural entourage such as automobiles, people and plant life.

• Avoid any reference to existing copyrighted material or franchise.

• Only one entry per Contestant will be allowed.

All efforts will be made to have the Contest infrastructure in place and working prior to the starting date. 3Dallusions and the Sponsors will not be held accountable for any downtime caused by Internet or hosting service server downtime. In the event of downtime during final entry deadline date, the contest shall be extended the period of time that the system was down. In addition we will make every effort to contact members and inform them of the new deadline.
-END-
Contest Pages:
• Challenge
• Rules
• Prizes
• Judges
• Challenge Forum
• Challenge Models
Save
Save
Save
Save