OTG17 - Winners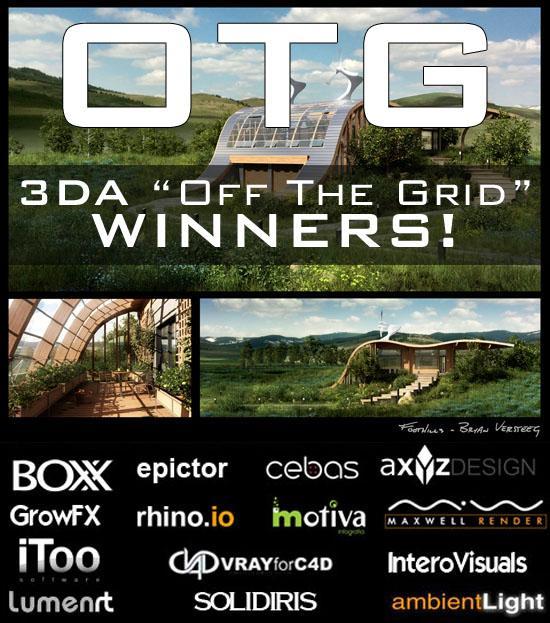 3DAllusions is proud to announce the winners of the "Off-the-Grid" Challenge 17 contest. This contest had our largest sponsorship to date as our gracious sponsors really out did themselves this time.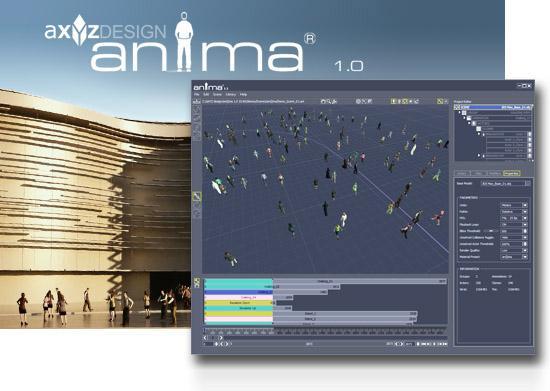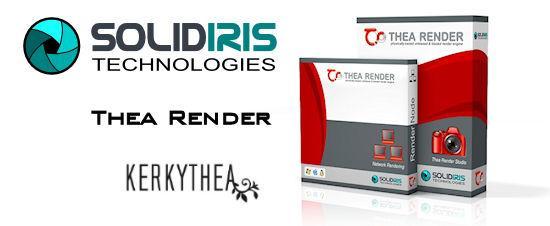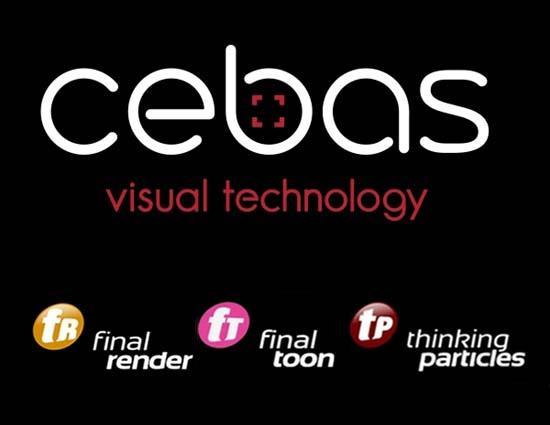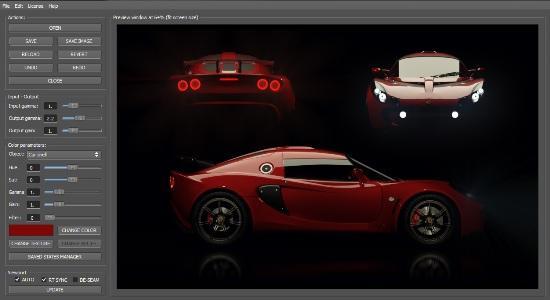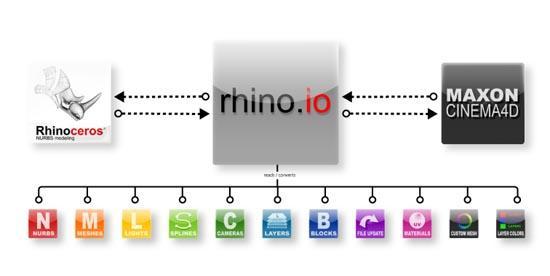 Special Thanks to our Panel of Judges:
Jeff Mottle
Jeff Patton
Ronen Bekerman
And the Winners are...
Grand Prize Winner:
Bryan Versteeg (a.k.a. Visulator) - Foothills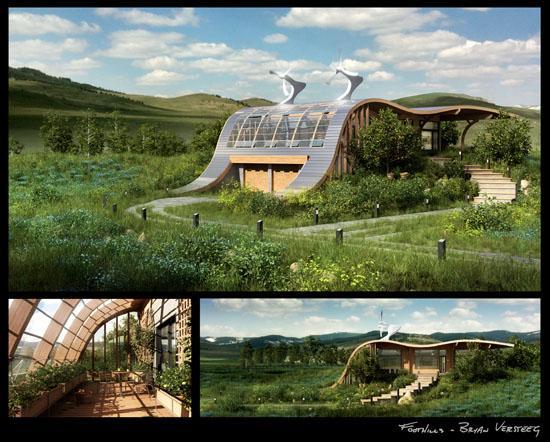 "Cool concept/design and renders - Jeff Patton"

" Best design work of this challenge by far! a lot of work was dedicated to the house and the OTG elemenets supporting life in it. I'm not a big fan of the curves, but it surly has a nice flow to it and blends in the surroundings. More attention could have been dedicated to the foliage scattering as it does look odd at places, and the coloring could have benefited from more tight control over the range. The background image, does look like a background image placed at the back of a 3d model... adding some mid range 3d elements and using fog could have gone a long way in diffusing that. This one is in my top 3 - Ronen Berkerman"


Runner Up:
Bien Negradas (a.k.a. lyle_kyle) - Green Scene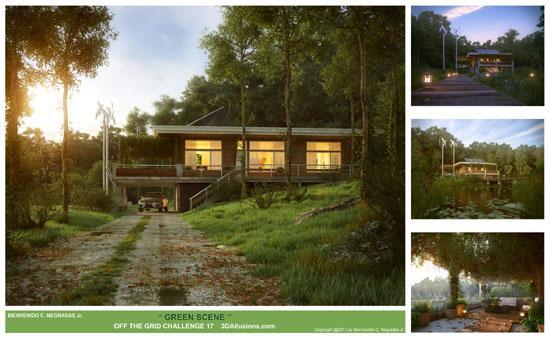 "Wonderful environment, attention to details, and composition. - Jeff Patton"

" This feels very much of the grid, but the implementation of elements that allow that type of living is not that good or convincing. I imagine wind energy could have been better placed in a much more open location the this forest scenario... The OTG aspect here seems like an after thought - Sorry...
That said, this is one of the best technically and emotively executed images of this challenge. Love the ground work, path and trees. Very nice lighting both in and out. The supporting images are very good too... - Ronen Berkerman"


Honorable Mention:
Jesús Oscar Salmerón (a.k.a. kiteman) - Earth House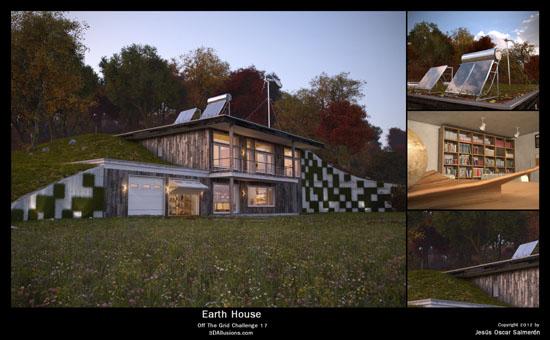 "Great image and attention to detail - Jeff Patton"

" Nice touch with the design in this one, and yet it is not enough. I don't get any OTG vibes here... Lots of scattering going on - some good and some not so good. The background forest colors change too much for my taste. Lighting is too flat - Ronen Berkerman"


Merit Award One:
Jamie Holmes (a.k.a. JHolmes) - River Power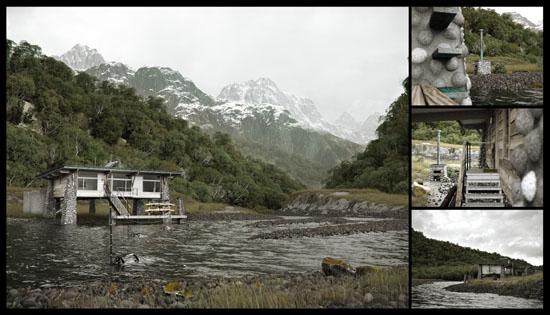 "Stunning envrionment! - Jeff Patton"

" Jamie's work hits the OTG theme on the spot + the techincal aspects of the making are pretty good too. We get a wide view of the scenario with the house and OTG hydro-turbine elements in a very convincing manner. Great landscape modeling done here - massive actually, and yet you do not feel this! The location or part of it could easily been considered as real footage mixed in... I give a lot of credit to Jamie on that aspect, but he did a poor job on the lighting. I get the winter feel he went for, but this was wrong, since the final image is less emotive and aesthetic than it could have been with this much work dedicated to create this chunk of earth landscape. This one is in my top 3 - Ronen Berkerman"



Merit Award Two:
Mateusz Grzybowski (a.k.a. MG_Arch) - Untitled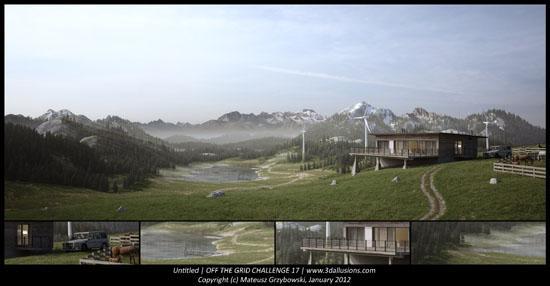 "I love the wide layout/format. The terrain & environment are great - Jeff Patton"

" What a view!!! Superb 3d landscaping and texturing, a grand panoramic view that sets the context and the house is situated nicely into the frame. I could think of this house being part of a larger off the grid farm that those large wind power sustain. Nice touch with the jeep and a glimpse of farm life with the horses ending the frame to the right. Mateusz process is also commendable, starting with a clear sketch, moving on to matte painting to further set the look and feel, while using several tools to get the challenging large landscaping done - I love it! This one is in my top 3 - Ronen Berkerman"

Contest Pages:
• Assignment
• Rules
• Prizes
• Judges
• Challenge Forum
• Challenge Models
• Challenge Gallery
Save
Save