ArchVision - RPC Casual People
Archvision releases a new collection of casual people entourage, featuring casual summer styles.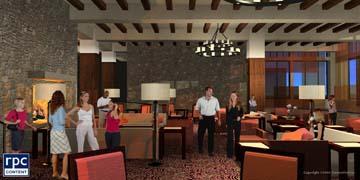 ArchVision Releases New 3D Casual People Collection
Summer Casual RPC Library Unveiled
Lexington, Kentucky, July 14, 2006 -- ArchVision, Inc. announces the immediate availability of a new RPC (Rich Photorealistic Content) library, Casual People Volume 10. Featuring casual summer styles, this RPC collection will further enhance your entourage choices. With a sundry of different poses and expressions, this new collection is designed to add variety and realism to 3D renderings and animations. As with all RPC Content, users of these new collections can take advantage of RPC Platform Tools for ease of placement and editing. Features such as Mass Populate and Mass Edit make placing entourage a snap.
ArchVision RPC Content saves design visualization artists and animators hours of production time by allowing them to add photorealistic entourage with ease. RPC People, Trees, Automobiles and other Objects increase the value of renderings by adding unparalleled realism within the industry's leading visualization applications.
RPC is the industry standard format for managing image-based content and is supported natively or via plug-in by the world's leading 3D visualization applications including Discreet's 3ds max, Autodesk VIZ, Autodesk ADT, Autodesk Civil 3D, Autodesk Revit, Bentley MicroStation, Alias Maya, Newtek's Lightwave, Maxon's Cinema 4D, Robert McNeel & Associates AccuRender, Adobe Photoshop and others.
Pricing and Availability
3D Casual People Volume 10 is available for US $219.
Visit archvision.com to preview and order.
About ArchVision, Inc.
ArchVision is the leader in the development of image-based content creation, management and delivery solutions. In addition to its RPC (Rich Photorealistic Content) Plug-in technology, ArchVision's products include a growing library of RPC content ranging from people, trees and shrubs to image-based automobiles and other popular objects.
ArchVision currently serves customers located in over 90 countries around the world. RPC is the image-based rendering technology of choice for many of the leading animation, CAD, real-time simulation, and 3D modeling software packages on the market today. Native and plug-in RPC support now exists in 3dsmax, Autodesk VIZ, Autodesk Civil 3D, Bentley MicroStation, Alias' Maya, Newtek's LightWave 3D, Maxon's Cinema 4D, AccuRender from Robert McNeel & Associates, Revit, Piranesi from Informatix, Adobe Photoshop, Graffiti RenderPro, Cubicspace's rtre, Arc+ Render, VR4MAX, and SGI Performer. For more information, call ArchVision at 859-252-3118 or visit us on the web at www.archvision.com.