LightWave 3D v9.6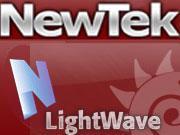 NewTek Inc., manufacturer of 3D animation and video products, has released LightWave v9.6, an updated version of its award-winning 3D application, LightWave 3D
These days, with the creative process, artists need to move at maximum speed in order to tackle incredible deadlines, demanding work and high expectations. Using LightWave® either exclusively or in a pipeline, makes it possible for an individual, a small team or a major facility to see their dreams and ideas come to life with award-winning quality work on time and on budget. Artists all over the world say the speed, flexibility, value and control they gain with LightWave throughout the creative process lets them get it done.
LightWave® is a complete modeling, rendering and animation system. Used extensively in broadcast television production, film visual effects, video game development, print graphics and visualization, LightWave is responsible for more artists winning Emmy Awards than any other 3D application.

LightWave v9.6 boasts new capabilities, such as improvements to animation, rendering, and workflow, with FiberFX cloning, Layout snapping, and automatic drag-and-drop file loading. More than 625 feature requests and reported issues have been implemented and resolved between 9.6 and previous version 9.5. LightWave v9.6 is the fifth free update in the
LightWave v9 series.
Features in LightWave v9.6 include:
FiberFX Cloning ­ - provides the ability to place multiple instances of hair on an object

Layout Snapping ­ - allows the quick connection of one item to another, saving time and additional steps

Drag and Drop ­ allows an icon of an object or scene to be opened by dropping the icon into Modeler or Layout

New and Improved Export - buffers­ enable multipass pipeline users to output more buffers (layers) in high-dynamic range

Multithreaded Pixel Filters - provide faster rendering of projects that integrate pixel filters

Depth Buffer Normalizing ­ - allows 3D scene elements exported into film or video footage to automatically blend properly, even if moving relative to one another .

Ray Cutoff ­ - enables artists to decide at what point to cease ray bounceswhen rendering a scene with numerous reflections, refractions andtransparency, significantly shortening render time
Open to other render engines ­ - Other rendering engines conforming to the LightWave v9.6 SDK can be used directly from within the LightWave interface

Three new nodes include:

Car Paint: Greatly eases the creation of complex polished surfaces

Flake: A simple procedural texture based upon the flakes often seen in car paint

Curve: Allows the creation of complex gradients

NewTek LightWave 3D combines a renderer with modeling and animation tools. Known for its fast workflow and ease of use, LightWave integrates with other popular production tools for 3D and compositing, with support for a wide range of formats.