SolidRocks 0.75 Released

SolidRocks is an Autodesk 3dsmax plugin which automates the complex process of rendering setup. It brings the best of the powerful V-Ray® rendering engine without any knowledge of its internal kernel.

Just choose the image size and quality you need, and click Render. That's all! Don't spend anymore time. Just clic render and achieve professional renderings.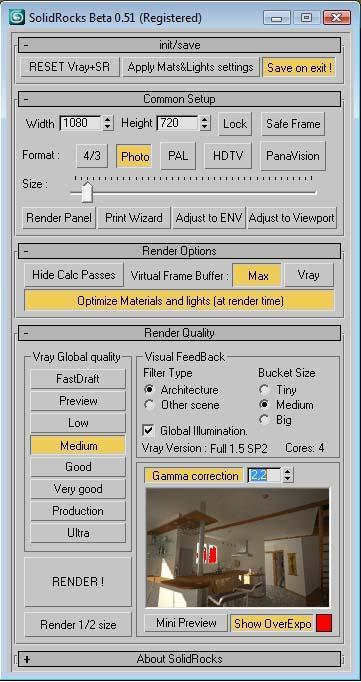 SolidRocks adjusts and optimise all needed Vray parameters to reach the best rendertime/quality ratio.
Learn Vray progressively, see in realtime changes made by SolidRocks when you change resolution/quality.

Before buying an expensive workstation to reduce render times, try our demo for free !


Incoming SolidRocks 0.75 Key Features

* 1 click process for complete Vray setup

* friendly and Very simple interface

* custom parameters for each scene

* modifiable presets : exteriors, interiors...

* handle all Vray settings needed for best quality vs rendertime

* LWF gamma automation / gamma correction

* shareLightcache tool for speedup slaves warmup

* auto Exposure and Auto White balance tools

* materials and lights optimisation tools for best rendertimes

* mini preview showing overexposed areas for fast light setup

* All your needs in a single window

* Auto Vray settings adaptation depending on choosen resolution

* switch between draft and production render settings in one click !

* useful for Vray newbies, average and power users

* learn Vray watching SolidRocks at work

* Discover the power of universal mode and detail enhance

* gain time !!!
http://solidrocks.subburb.com/