Got3D Easy-to-Use 3D People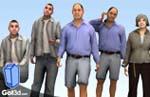 Got3D Releases New Collection of Easy-to-Use 3D People. New Collection Provides Users with a Second Set of Quality People Models.
Got3D continues to bring new content to market at a breakneck pace. For August, Got3D proudly launches its latest high quality, easy to use 3d people content with the introduction of the Casual 2 Revolution Series collection. As with the first collection of 3D Revolution Series people introduced last May, this collection addresses the common problem of bringing high quality people into CG scenes and having that content interact more realistically with the environment.
The Casual 2 Revolution Series collection consists of sixteen 3d people models intended for use in still renderings and includes eight different individuals, each in two separate poses. Each person features a very low average polygon count (about only 3,900) with a high-quality, life-like texture. Unlike photo-image-based content, these characters cast and receive shadows within the scene and work very well with global illumination settings, creating content that looks like it absolutely belongs within your scene. These 3d people are compatible with Max (7.0), LWO (7.5), and 3DS file formats and can merge directly into customer's scenes. Each texture is saved at 2048x2048 pixels in high quality jpeg format. Introductory pricing for this collection is set at an incredible $95 (U.S.).
The Casual 2 content collection in the Revolution Series follows the introduction of the first collection in May, one of the best selling collections in the Got3D library. As with all Got3D content, this new collection is backed with a 100% satisfaction guarantee! Samples can be downloaded for you to test drive before you buy. Download a sample and join the growing number of visualization pros who are enjoying the quality and value of Got3D content collections.
To see the entire collection and to download a full quality sample, visit www.got3d.com.
About Got3D
Got3D specializes in the production of high quality content for use in professional quality renderings and animations. With a wide selection of textures and 3D models, Got3D has grown to become one of the key resources for visualization professionals around the world. Visit us at www.got3d.com to see the very best in high quality textures and 3D models to add new levels of realism to your scenes with astounding ease.