ambientLight half off Sale!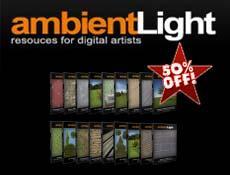 New site Goodies - 50% Discount! What better way to kick off the new year than with a nice saving. We're giving you all the opportunity to save 50% on your orders until the end of February 2009, that's a whole month of new site bargains. Valid on any order just use the voucher below to claim when making your order, easy as that!

Enter this code in the store cart when prompted to claim: cutinhalf

Multiple Currency Selector
We are now using paypal exclusivley, and have switched to a multi currency display. You can select your preffered currency from GBP, USD, AUD or EURO's, and use these for browsing and for completing your payment. All rates are updated daily.

New Order System
Our new order system will allow you to download any order directly after your payment via your order history, or in the case of bundles, via your download email. Bundle orders now have seperate download id's for each component part of the pack, which should mean fewer problems in downloading your orders.

New Customer Gallery
We've updated the gallery software so things are all running smoother, and we are accepting submissions for the user gallery. Every author that has an image shown in the gallery will receive a free texture pack of their choice from our range! You can even use our sample textures in your images for the gallery, meaning even artists that are new to ambientLight have the chance of showing off their fantastic artwork and winning a texture pack.

New Sample Texture Pack
We updated our sample texture pack with all new textures from across our entire range. We now have 32 full resolution colour texture maps, along with their matching bump maps or alpha maps for you to download and play with. Registration is required in order to activate the download for this pack.

What's Next?
We're going to be adding some exciting new packs this year, more natural landscape textures as well as some 360 degree natural backdrops at high resolution for your scenes. We will also be creating new texture sets that will include normal maps along with bump maps for those people that use software that can take advantage of them.
http://www.ambientlight.co.uk