NewTek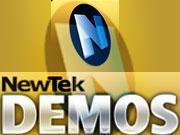 NewTek Launches Live Product Demo Webcasts
NewTek Inc., manufacturer of industry-leading video and 3D animation products, today announced that it will offer free live demonstrations of its products at demo.newtek.com beginning on March 18 and 19. Produced and streamed using NewTek TriCaster portable live production systems, each session will be held every two weeks and will focus on one NewTek product line.
"We have heard time and time again that once someone sees our products in action they are immediately amazed," said Don Ballance, director, training worldwide, NewTek Inc. "We are excited to give people an opportunity to see first-hand how our solutions meet their business and production needs."
The products to kick off the NewTek DEMOS are:
NewTek TriCaster™ : With TriCaster, anyone can produce network-style live video and distribute the event simultaneously to Web, video and projector. A single operator or small team can produce a live show while switching between as many as six cameras with two VCR's, multi-channel effects and NewTek's proprietary LiveSet™ virtual sets. TriCaster is used by sports organizations, government agencies, broadcasters, schools and others to provide a new level of extended programming and content to their audiences.
NewTek 3PLAY™ : A multi-channel High Definition (HD) and Standard Definition (SD) instant replay and slow motion system that delivers simultaneous display, recording, and instant replay of up to three video streams and four digital or analog audio streams per input. 3PLAY supports both NTSC and PAL formats and can be connected to any production switcher. 3PLAY gives sports broadcasters, leagues, teams and schools an affordable option to deliver instant replay and slow motion for broadcasts, webcasts, arena scoreboard displays and more.
Pricing and Availability
The TriCaster family of products in NTSC is available in North America starting at US$3,995. The TriCaster family of products is available in multi-standard internationally beginning at US$5,995. Educational pricing is also available.NewTek 3PLAY is slated to ship at the end of Q1 2009. 3PLAY will be available in North America at US$21995, and internationally starting at US$24995. Educational pricing is also available.
About NewTek

Benefiting producers and artists with its cost-effective and ground-breaking technologies, NewTek Inc. is a leader in portable live production, video editing, 3D animation and special effects tools, including the TriCaster" product line and LightWave 3D®. NewTek has won numerous industry accolades, including two Emmy® Awards. Clients include: Fox News, BBC, NHL, NBA Development League, MTV, VH1, the Steve Harvey Radio Show, the Department of Homeland Security (DHS) and the North American Aerospace Defense Command (NORAD). NewTek products have been used in blockbuster films and television shows, including "The Dark Knight," "Iron Man," "300," "Hancock," "Tropic Thunder," "Battlestar Galactica," "Lost," "Fringe" and more. NewTek is privately owned and based in San Antonio, Texas.