Maxwell Tutorials and Shaders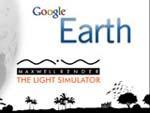 3DAllusions tutorial on using Google Earth to accurately place your Maxwell scene.
Additionally we have a basic tutorial on Maxwell Render material browser and editor. We have added to our resources Maxwell materials, two shaders, the stucco version contains 30 multiple versions matching some of the RAL color chart and the granite version has 14 multiple colors of granite.
- Maxwell Google Earth Tutorial -
- Maxwell Material Editor Tutorial -