CG Arena - The Last Elf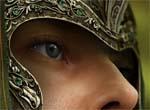 CG Arena - After receiving lots of mails Piotr Fox Wysocki decided to write a Making of The Last Elf in an interviewing way.

Making of the Last Elf:
There was no concept. I decided to do something crazy and like to check how much simple workstation can handle. The idea was to create exact models just like in a real life. That means no displacement, just pure geometry. And it was a modeling experiment, to see if it's worth to suffer so much. I realized it would be too simple to create a character.............