Charrette#15 - Quinta House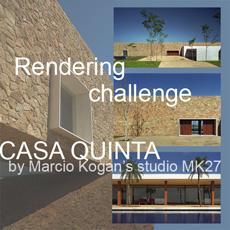 Charrette #15 - Quinta House: Submission phase closed, qualifying entries may be viewed in an interactive compilation of the participants process.
This time we put up some effort to build the complete house scene along with most of the furniture inside, that we were able to reconstruct based on reference material we had. Our new challenge is to texture and render Casa Quinta by architect Marcio Kogan and his Studio MK27 from Sao Paulo, Brazil.
Entries HERE