BAUHAUS FURNITURE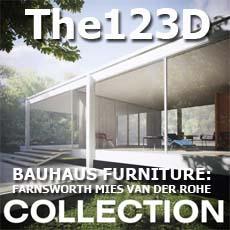 The123D - This is a Bauhaus Furniture collection based on the Mies Van Der Rohe Farnsworth House.
A series Fantastic Detailed and realistic models available in multiple file formats.
Don't miss the large preview images!
Previews were rendered in Vray. The Max vray file is included (trees and grass are NOT provided).
To render the Fog effect you will need at least vray 1.5 sp3. But note that the scene WILL render in earlier versions of vray without fog. HDR file for vray domelight included.
The Full scene is also included in other formats as indicated.
No cleaning up necessary, just drop your models into your scene and start rendering.
File formats: .max / .3ds / .obj. / .lwo.
Features:
• High quality polygonal model - correctly scaled accurate objects.
• Model resolution optimised for polygon efficiency - faster rendering with realistic results !
• Max models grouped for easy selection & objects are logically named for ease of scene management.
• Models are fully textured with all materials applied.
• No part-name confusion when importing several models into a scene.
• No cleaning up necessary, just drop your models into the scene and start rendering
Models: 5 model packages containing all necessary texture files. The .obj package comes with an additional materials file.

Product Page HERE