Epictor Launches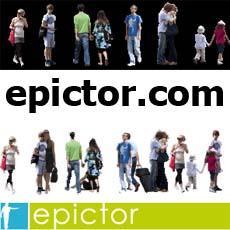 Epictor - Provider for a new platform for high quality entourage images, officially launches its website, after a successful beta phase. To ensure premium content, every picture goes through seven steps of processing and quality assurance. epictor meets the needs of professional visualisation artists and has received a warm welcome.

Epictor has identified the main needs of digital artists:
- Ready-to-use images without any need to rework in particular without halos or artefacts
- 100 % reliability on pictures' quality
- Up-to-date fashion and natural poses
Claude Wantz, creative director at epictor, has created a complex multi-step processing system from shooting the picture in the street to uploading it to the servers.
It's epictor's aim to maintain a constant dialogue with the visualisation artists' community. An active participation in online discussions is a vital part of epictor's communication strategy.To convince every user of its quality, epictor offers a completely free sample image to its registered users every month.
About epictor
Epictor was founded by three young professionals from Germany. Felix Nienstaedt and Claude Wantz, both visualisation artists and architects, and Simon Smend, economist from Berlin.
For further information, please get in touch with epictor at:
email: This email address is being protected from spambots. You need JavaScript enabled to view it.
URL: www.epictor.com
Telephone: +49 (0) 30 627 341 79
Mobile: +49 (0) 177 929 44 33