Maxwell Render 2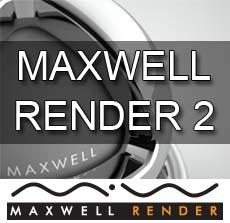 Maxwell Render is pleased to announce the general release of version 2 of Maxwell Render. For the last few weeks version 2 has been only available for existing clients upgrading – and the upgrade rate has been excellent. Now we can open up Maxwell Render 2 to new clients.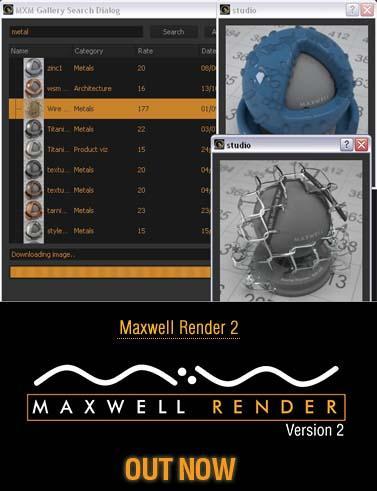 This major new version brings an arsenal of new features, enhancements and additions to Maxwell Render users, among others:
- Major improvements in speed and noise reduction with optimizations in caustics, emitters, mirrors, HDRIs and more.
- Significant quality improvements in roughness, color output, light distribution, sunlight and more.
- Stacked Layers: Materials can now be stacked on top of each other, much like layers in a photo editing application. Each layer can hold a number of components and an opacity mask can be used to determine the influence of each layer. The Stacked Layers system makes it much easier to create extremely complex materials and materials that were simple impossible to create in V1.7.
- Thin SSS: Subsurface scattering in V2 now has a special mode which can handle single-sided geometry. This mode is very suitable for leaves, lampshades, paper, and curtains amongst others.
- An easier to use, more robust, and customizable network system.
- Support for IES and EULUMDAT files.
- Color Multilight™: It is now possible to edit the color of emitters in real-time.
- Built-in compatibility with RealFlow, enabling users to generate procedural geometry and meshes at render time, using Maxwell Render.
- A new plug-in for Modo.
- And much more….
To see exactly what's new in Maxwell Render V2 and to take a look at the new website, please see http://www.maxwellrender.com
Maxwell Render version 2 is available for purchase from Next Limit's secure online shop at https://www.nextlimit.com/newtpv and from authorized Maxwell Render resellers. Existing customers can upgrade their licenses to version 2 via the customer gateway at https://portal.nextlimit.com
The Maxwell Render v2 demo is available from http://www.maxwellrender.com
New resources
In an effort to continue offering Maxwell Render customers the best possible learning resources and support, the THINK! tutorial website at http://think.maxwellrender.com has been completely renewed, offering series of specific Getting Started tutorials for the Maxwell Render plug-ins and components.
The Maxwell Material Gallery continues to offer thousands of free, ready-made materials, skies, and HDRIs to Maxwell Render users. See http://resources.maxwellrender.com