3DA Turning 10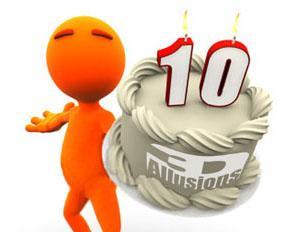 3DAllusions - Turning 10 years old! Who would have thought we would still be here? I remember how excited I got when our membership reached 100.
3DAllusions the site, started out as a personal online portfolio for Russell Thomas (a.k.a. TheAllusionist) back in April of 2000 and as an official business the month before. Back then CG Architect was one of the only sites focusing on architectural visualization and the other sites I visited tended to be very poor places to show off architectural renderings, so I started the forum using phpBB for online friends and acquaintances, it was not, nor is it now, intended for architectural visualization only, however for the most part that is the type of artist who has been attracted to the site. The forum started to grow; soon I was putting industry news and tutorials on the front page of my site. Eventually it became weird to have my personal portfolio on the site so we the site was transformed into a CG portal and we switched to professional forum software. Now that I have left architecture to pursue visualization and the sites full time, I had to create an online portfolio for the new projects and studio endeavor, hence the creation of 3DAstudio.com. Hence, the whole process has come full circle in a way.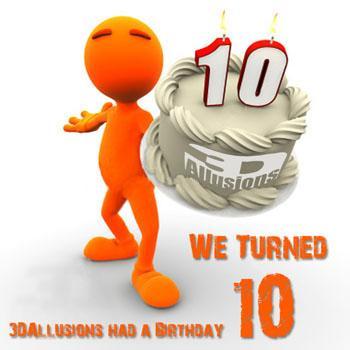 The main site was converted to a CMS (content management system) and lots of features were added, one of which was the resource section where users can upload and download digital content like models and textures. Initially Paulo Barrelas (a.k.a. pBarrelas) uploaded around 70 high resolution sky textures as well as other content and the sky textures is one of the better collections I have seen to date. Even though a lot more content has been added, those still tend to be a valued resource.
The forums have really grown with artist galleries and a links directory and what is now basically a quarterly challenge. The challenges consist of rendering charrettes where we provide the scene, usually created by the talented Branko Jovanovic (a.k.a. d.sign), and in a WIP (work in progress) type thread, artist share their versions and progress and exchange ideas and input. In our last Challenge we had around $10,000.00 in prizes, it has really grown and our scenes are seen in numerous portfolios and in a lot of other sites. Others have really jumped in and helped out and our Staff of moderators has really helped make the site what it is today. I have to give a special thanks to those I haven't mentioned yet: Indranil Ray (a.k.a. Neil) Jakub Gabrial (a.k.a. Horhe), Rod Thonen (a.k.a. Rod), Neha Kakkar (a.k.a. Neha), Neil Cristobal (bokkins) and Ronel K. Pabico (a.k.a. Rpadc2002) as well as past moderators and the community itself.
From the success of this site we have been able to try other projects to help out the CG community. The most successful to date would be MrMaterials.com. A repostiory for mental ray materials and textures as well as tutorials by industry expert Jeff Patton (a.k.a. JeffPatton). We also have a toy project called DigitalSweatshop.net aimed at linking clients/employers with artist/professionals in a networking environment. The current economy has made that project slow starting, but we continue to work on it as well.
It has been a lot of fun watching the site and it's related projects grow, but the thing I am most proud of is how well behaved and professional the members are and the thing I enjoy most is watching artist grow and improve their craft.
We are about to launch an Online Store and a combined newsletter to celebrate the occasion. Members who would like to sell conent are encouraged to contact us with information about the content they would like to sistribute through our store.
I hope I get to write about the next ten years in 2020!
Russell