3DA Charette#16 - House N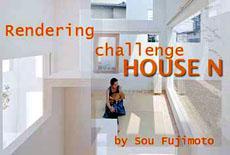 3DAllusions - Launching the next quarterly rendering challenge. The architectural rendering charrettes have become very popular in the architectural visualization community.
This time we bring you something different, something that is more focused on the inner realm of the house, inner, yet not inside, nor outside... So now we will have to play with white form, mass and void, light and air... touch of nature in the gentle trees and pebbles in the inner garden... So this is different, yet in a way this is good continuation of our previous challenges as this is also one unique house and we kind of keep the tradition, presenting the houses that touch the very essence of a house in a completely unique way, in different setting, culture, part of the world.

We present you House N in Tokyo, by architect Sou Fujimoto.