3DA Online Shop - Call for Content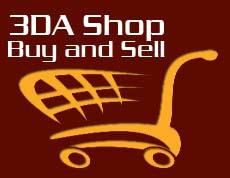 3DA Online Shop - We are opening up an online store for commercial products and member content digital distribution. The goal is to distribute quality content at a profitable rate for the artist/member.

We have had the basic set up and SSL certification for a while, but thought for our 10 year anniversary we should bite the bullet and finish it up and go public with our Online Store.

The basic premise is that we will be selling commercial products and I have some vendors lined up, but we also will be selling members downloadable content if it meets the quality we think appropriate. We do not want to sell small items as with the 60/40 (member/3DA) split we intend on trying out, we would lose money with transaction fees on small sales. So we thought we would try out something like a $20.00 minimum product price. This could be a collection of content or a more complicated product.

Downloadable content such as models, textures, materials, programs, scripts and tutorials are what we thought initially would be distributed, members might have ideas that we would incorporate as well.

At this point we are looking for user content as we work out putting up the commercial content.
3DA Online Store

Online Store Polices

Selling Content

Content Preparation

Content Agreement

Content Sales

We hope this will help members and 3DA!