aXYZ-Design M3 Collection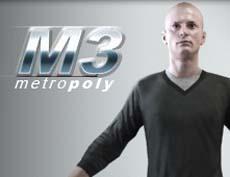 aXYZ-Design - Metropoly M3 collection released. Rigged low poly models specifically designed for medium distance use for posed or animated conditions. Models rigged for key frame or MOCAP animation.

CONTENT: Included are 5 Full Body & Hand with Mouth & Eyes rigged 3D-Human models ready to be animated. (Morph vertex maps are not included).

GEOMETRY: Optimized at ≈3500 polys per character for an optimal deformation during the animation process.

MATERIALS: Max Standard.

FORMAT: Models are compatible with Max 2008 or above.

UNITS: Centimeters and Inches.
More information may be found HERE