Rendering Revolution Competition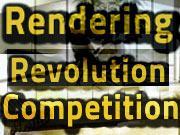 Rendering Revolution Competition Accepting Entries on October 1, 2010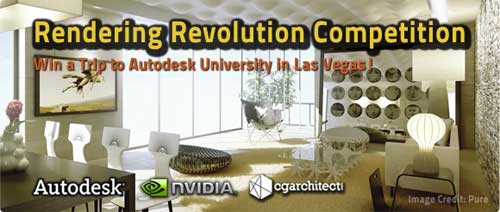 Here's your chance to show off your best architectural work through high-quality renderings AND win great prizes! Sponsored by Autodesk®, CGarchitect, and NVIDIA, the Rendering Revolution contest is a global still image architectural visualization competition in celebration of the Autodesk® 3ds Max® 20th Anniversary and advancements in GPU-accelerated rendering solutions.

To participate, you must:

* Create an architectural scene that incorporates the 3ds Max 20th anniversary logo. The logo must be in a recognizable form, but you do get points for creativity.
* Produce a still image of that scene. The scene can be designed with any application, but final frame rendering must be done in 3ds Max 2011 or 3ds Max Design 2011 software using its native GPU rendering solutions – Quicksilver or iray® – or any GPU-accelerated third-party rendering solution.
* Upload your submission to this site. We will start accepting submissions on Friday, October 1, 2010 and the contest will close on Sunday, October 31, 2010.

Win a Trip to Autodesk University in Las Vegas!
The grand prize winner will receive round-trip airfare for two, three nights of hotel and complementary passes for two to Autodesk University 2010 . The top three winners will also receive a copy of the Autodesk Design Suite Premium 2011 (Valued at $4,995 USD) and an NVIDIA Quadro Board.