New Releases C4D and Body Paint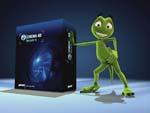 Maxon releases the latest Cinema 4D and Body Paint.
MAXON releases new major versions of CINEMA 4D and BodyPaint 3D
October 4, 2006 - Friedrichsdorf, Germany - On the eve of its 20th anniversary, MAXON is pleased to announce the upcoming availability of CINEMA 4D Release 10 and BodyPaint 3D Release 3. With these landmark releases, MAXON has enhanced its modeling, animation and painting softwares to build upon a reputation for ease of use with countless workflow improvements.
CINEMA 4D R10 features enhanced object and animation managers, which have been optimized for quicker workflow. Objects can now be easily filtered, searched, bookmarked and arranged in layers to aid in dealing with large scenes. A completely rewritten timeline can be organized in the same way as the Object Manager, and now offers ripple and region editing tools as well as improved automatic and manual controls over keyframe interpolation.
The advances in scene management will be especially helpful in character animation, the major focus of CINEMA 4D R10. Character animators will enjoy a new comprehensive toolset in the MOCCA module, offering joint-based skeletons with improved IK setup and solutions. Skin deformations allow the user to apply the entire animation from one skeleton to virtually any mesh. Automatic weighting saves time while binding joints to the mesh, and new weighting tools make it easy to adjust or manually weight each joint to the mesh. An extensive morph management system makes lip-syncing and facial animation simple, and the new MOCCA toolset also provides muscular deformation based on the animation of joints. Finally, the VAMP tool simply transfers morphs, UV coordinates, weighting, selections and vertex maps between objects of different topologies.
With the powerful new release of BodyPaint 3D, MAXON expands its multi award-winning 3D painting and UV editing software to include breathtaking 16 and 32 bit image manipulation capabilities, as well as UV LSCM Pelt mapping and several other key advancements. Improved features and continued integration with Maya, 3ds max, SoftImage XSI, and Lightwave converge to push BodyPaint 3D forward as an indispensable tool for artists everywhere.
Improved Relax UV algorithms elegantly interpret the full range of geometric object curvatures into UV maps that are ready to paint on. Added tools such as path selection make it possible to select seams and refine a UV mesh with ease.
The interface of both applications has been given a facelift as well, with the inclusion of new schemes and icons for easier regocnition and a faster workflow.