VUE 9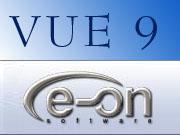 E-on Software to Ship Vue 9 Early November

VUE 9 PRE RELEASE AVAILABLE FOR USERS UNDER MAINTENANCE

e-on software, the leader in Digital Nature solutions today announced the formal unveiling of its upcoming Vue 9 product line - scheduled for release during the first half of November, 2010.

Among other significant advances, this new release introduces revolutionary anti-flickering algorithms specifically engineered for the rendering of large, ultra-detailed natural environments.

Thanks to this breakthrough rendering technology, e-on software anticipates that this new release will extend the use of Vue beyond the scope of matte paintings into the realms of fully animated 3D shots.
Release Schedule and Product Lineup

E-on software expects to release the entire Vue 9 product line in the first half of November 2010*.

The Vue 9 product line is architectured around the same three-tiered family structure:

* Vue 9 for CG Professionals: Vue 9 Infinite and Vue 9 xStream.
Offers CG professionals the premiere solution for creating exceptionally rich and realistic Digital Nature environments with seamless integration into any production workflow.

* Vue 9 for 3D Artists: Vue 9 Esprit, Vue 9 Studio and Vue 9 Complete.
Provides 3D artists with powerful modular applications to create rich 3D Digital Nature scenery and landscapes.

* Vue 9 for 3D Enthusiasts: Vue 9 Pioneer, Theme-Packs and Vue 9 Frontier.
Published by Cornucopia3D, powered by e-on software, these products feature content-filled, easy-to-use scenic nature creation for home and family use, with Vue 9 Frontier specifically dedicated to Poser™ and Daz|Studio™ users.

*Professional solutions will ship first, followed closely by products for 3D Artists and 3D Enthusiasts.
Next Generation Features

Capitalizing on breakthrough technologies introduced in previous versions, Vue 9 adds a number of new and extended features such as:

* New flicker reduction algorithms: Vue 9 proudly introduces new flicker reduction algorithms developed by e-on software. These algorithms produce animated renders with a noticeably reduced amount of flickering, reinforcing Vue as the ultimate solution for rendering animated natural environments.
* Faster Rendering: thanks to internal refactoring, Vue 9 renders up to 30% faster than previous versions!
* Relighting: to instantly adjust the lighting of the scene after the render completes – lights can be turned on and off, colors can be changed, all in real-time!
* Interactive Network Rendering: thanks to advanced data fragmentation and caching for the distribution of scenes to the rendering nodes, Vue 9 allows for completely interactive network rendering. Scenes are rendered to the screen while the network is handled in the background automatically.
* Improved Terrain Editor: Contextual brushes and fully customizable terrain brushes, automatic Terrain Retopology, Sculpting and Painting masks, Smear brush, Terrain Canvas extension, ...
* EcoSystem 4: dramatically reduced flickering, optimized rendering and memory management for Dynamic EcoSystems, animated EcoSystem populations, and more ...
* HDR Multi-Pass Rendering,
* HyperBlob Technology: convert HyperTextured MetaBlobs to polygon objects with user defined LOD - ideal for the creation of extremely rich and detailed rock formations,
* Custom Interfaces: to create simplified high-level controls and access these controls directly from the material editor, the terrain editor or the object editors!
* Auto Saving and Scene Snapshots: this unique and innovative technology automatically saves the scenes in the background, while working, without interfering with the user workflow!
* And much more (Rocky Mountains fractals, Inverse Kinematics, Cloud Radiosity, Real-World units, Catmull-Clark subdivision, improved texture management, native Cocoa, new interface design, ...)

More details on the new features as well as the complete description pages will be published at the time of release.

Vue 9 xStream / Infinite Pre-Release Versions Immediately Available

Users of Vue xStream or Vue Infinite under maintenance will receive the upgrade to the corresponding Vue 9 product at no charge, and if desired, can download a pre-release version of their Vue 9 upgrade immediately.

More information on e-on software's maintenance plans can be found at:
www.e-onsoftware.com/maintenance

Vue 9 xStream and Vue 9 Infinite are expected to ship in the first half of November 2010. Customers who purchased Vue 8.5 xStream or Infinite within 30 days of the release of Vue 9 will receive Vue 9 at no cost as part of the Free 30 Day Maintenance included with all new purchases.


About e-on software

E-on software is the leading developer of solutions for the creation, animation, rendering and integration of natural 3D environments. Offering a wide array of Digital Nature products and applications, e-on software provides solutions adapted to every project and budget. E-on software products are used worldwide by the film, television, architecture, game, science, educational and entertainment industries.

E-on software products were used in features film such as "Avatar", "Clash of The Titans", "The Wolf Man", "2012", "The Imaginarium of Doctor Parnassus", "GI Joe – The Rise of The Cobra", "The Proposal", "Land Of The Lost", "Terminator 4, "The Curious Case of Benjamin Button", "Indiana Jones 4", "Monster Vs Aliens", "Australia", "The Spiderwick Chronicles", "KungFu Panda", "Pirates of the Caribbean 2" and TV series such as "Battlestar Gallactica", "Stargate Atlantis" and more. Read more on these stories in e-on software's Spotlights section: www.e-onsoftware.com/spotlight.

E-on software was founded on the premise that powerful graphics tools should never get in the way of the designer's creativity. By investing significant resources into research and development, e-on software is able to deliver cutting-edge, user friendly technologies that produce stunning Digital Nature scenery.

E-on software is based in Beaverton, Oregon with a European office in Paris, France.



Press Contacts
This email address is being protected from spambots. You need JavaScript enabled to view it.
971-327-6008 (US)
+33 1 43 14 28 15 (Europe)