Full Sail University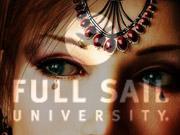 Looking to start your career in animation. Full Sail's Computer Animation program was designed to prepare you for a career in this exciting field.

Computer animation is one of the most vitalcareer fields in the entertainment industry –with talented artists working on everything from animated features and special effects to video games and motion graphics.

Whether it's implementing massive crowd scenes in a movie, color correcting products for a television commercial, or creating the vast landscapes players travel through in a video game, artists are using computer graphics in nearly every aspect of the entertainment industry.

Full Sail's Computer Animation program was designed to prepare you for a career in this exciting field. By expanding your abilities as an artist and learning the latest tools, applications, and design theory used to create 3D content for different media, you'll not only be able to take your art in new directions, but also put your skills to work realizing – and sometimes even improving – the creative vision of others.

Your early classes will teach you a foundation of traditional art and animation principles, including life drawing, and shading and lighting. This curriculum also covers the principles of physics, anatomy, and color theory, all of which you'll take into computer animation courses where you'll create digital characters, objects, and environments, as well as special effects for live action film and television.

As your animation skills grow you'll move on to our Motion Capture Studio. In this facility you'll learn how to run a professional motion capture session, as you direct the action of performers wearing a sensor-monitored bodysuit, and use that data to create even more lifelike movements in your digital characters.

Supporting classes in compositing, rendering, and rigging will round out your abilities, and your final months will be spent combining all that you've learned into an animation portfolio that will demonstrate your ability to create professional quality assets for film, television, video games, and more.

In Full Sail's Computer Animation Bachelor of Science Degree Program we teach you the latest 3D modeling tools and techniques as they relate to careers across a number of different fields. Our program offers a place to develop your passion while serving the growing need for artists with the dedicated skills to create the next generation of digital entertainment.

3D Animation courses include:

* Art Creation for Games
* Compositing and Scene Finishing
* Shading and Lighting
* Visual Effects

Character Animation courses include:

* Animation Production
* Character Design and Creation
* Character Rigging
* Production Modeling