Strata Live 3D CX2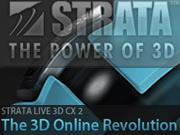 Strata Live 3D CX2 - The 3D Online Revolution


The revolution begins here with Strata Live 3D CX 2. Put realtime 3D in
front of your clients and customers. Strata Live 3D CX makes it easy to
prep your models, add interactivity, then output to the web and PDF.

YouTube style embedding is easy with the new cloud hosting option. Just
use the simple "Export to Web" command. This revolution will be online
and in 3D.