CityEngine Vue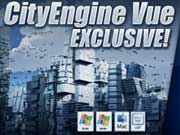 E-on Software and Procedural Together Introduce CityEngine Vue


E-on software and Procedural Inc. together announce the release of CityEngine Vue, a complete 3D city modeling solution for Vue users. CityEngine Vue is available now for purchase on Cornucopia3D, e-on softwares community website and content store, for as low as $199 for C.Club members!

e-on software, the leader in Digital Nature solutions and Procedural Inc., makers of the leading tool for 3D city creation, are jointly announcing the immediate availability of CityEngine Vue, a complete city modeling solution. CityEngine Vue enables Vue users to create large cities with a few clicks, and seamlessly integrate the detailed building or street models into Vue landscapes.

"Anyone that has ever had to create a city knows that the amount of detail that goes into making a 3D city takes a lot of time to build and construct.", said Pascal Mueller, CEO of Procedural Inc. "CityEngine Vue does most of the work for you using procedural technology, cutting out time consuming tasks such as manual design, texturing and modeling of buildings and streets. Now you can build your city in no time and integrate it directly in Vue."

"CityEngine Vue provides a powerful suite of tools to create 3D cities and import them seamlessly into Vue for rendering in rich natural 3D environments. We are excited to bring this opportunity to our users through Cornucopia3D, e-on softwares community and content division," said Nicholas Phelps, President of e-on software.

Key Highlights of CityEngine Vue

CityEngine Vue is standalone software with direct format export to all products of the Vue family (3D Artist and Professional solutions). With CityEngine Vue, users can:

* Save time building complete 3D cities using industry-leading procedural technology,
* Interactively try out different city designs (with immediate feedback),
* Sketch streets and blocks with just a few clicks,
* Copy real cities using data from OpenStreetMap.org,
* Easily integrate 3D cities into Vue terrains and landscapes.

The software ships with tutorials, reference manuals and plenty of learning videos. For inspiration and as a starting point, several demo cities are available for free download within CityEngine. The demo cities include an ancient Pompeii reconstruction, a science-fiction version of New York City, a detailed medieval city, Paris style buildings, modern street templates, and many more.


About e-on software

E-on software is the leading developer of solutions for the creation, animation, rendering and integration of natural 3D environments. Offering a wide array of Digital Nature products and applications, e-on software provides solutions adapted to every project and budget. E-on software products are used worldwide by the film, television, architecture, game, science, educational and entertainment industries.

E-on software products were used in feature films such as "Avatar", "Clash of the Titans", "The Wolf Man", "2012", "The Imaginarium of Doctor Parnassus", "GI Joe The Rise of the Cobra", "The Proposal", "Land of the Lost", "Terminator 4, "The Curious Case of Benjamin Button", "Indiana Jones 4", "Monster Vs Aliens", "Australia", "The Spiderwick Chronicles", "KungFu Panda", "Pirates of the Caribbean 2" and TV series such as "Battlestar Gallactica", "Stargate Atlantis" and more. Read more on these stories in e-on software's Spotlights section: www.e-onsoftware.com/spotlight.

E-on software is based in Beaverton, Oregon with a European office in Paris, France.


About Procedural Inc.

Procedural Inc. is an innovative software company located in Zurich, Switzerland, and is creator of the worlds foremost procedural urban modeling technology. With CityEngine, Procedural Inc.s graphics experts have developed a radically different 3D application that allows professional users in entertainment, urban planning, architecture, and GIS to efficiently create smart 3D cities. Customers include companies such as Dreamworks, Pixar, Weta, Stargate Universe, Blizzard, THQ, Rockstar North, Foster+Partners, Zaha Hadid, Coop Himmelb(l)au, Boeing or Dassault.


CityEngine is a registered trademark of Procedural Inc. Other product and company names herein are trademarks of their respective owners.