Maxon Bodypaint 3D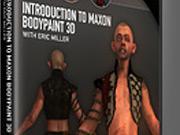 Maxon Bodypaint 3D has become the standard 3D painting tool used in the film and game texture pipelines.


Renowned for its stability and performance, Bodypaint excels in the arena of integration with 3rd party 3D and 2D applications like Autodesk Maya and Adobe Photoshop. Bodypaint's extensive toolset including a powerful projection painting engine has made it the tool of choice for painting textures on a 3D surface. Containing over 8 hours of lecture, this DVD covers everything you need to get started with Bodypaint. Beginning with the fundamentals of navigation, UI, and document setup, the topics progress to more advanced setup and workflow related lectures. The lectures will also address painting modes, like surface and projection painting, along with effective methods to create and utilize custom brushes in BodyPaint. Instructor for this title: Eric Miller


Eric Miller
Texture Artist

Eric has worked as a freelance Texture Painter and Visual Effects artist for eight years, specializing in Look Development for studios such as Look Effects and Ironhorse Interactive. During that time, he also served as the Systems Administrator for the Gnomon School of Visual Effects. His unique technical and artistic knowledge then landed him the role of Director of Distance Education, helping develop much of the texturing curriculum. Eric has been an instructor at Gnomon for six years and is now the Managing Director of the Gnomon Workshop.