modo 501 Signature Courseware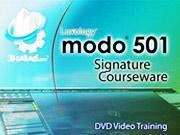 THIS COURSE WILL BE $179 UPON RELEASE, YOU CAN PRE-ORDER NOW AND SAVE $80

Features

This course is a brand new, from the ground up!
Coming this week! A slight delay in our release, but it'll be worth the wait!

Be the first to get all the info on modo 501! Entirely Brand New Course covering cool new features of modo 501!
Projects will demonstrate:
* Modeling household items with fine details using Pixar Subdivisions
* Building an environment utilizing the brand new surfaces and textures of 501
* Enhancing models and animations with new displacement and subdivision technology
* You'll learn how to animate in modo easily, and go further with the new animation assembly system
* Wondered about sculpting and uvs? Even easier with modo 501!
* Many tips, tricks, and demonstrations throughout to show you all the many new features and enhancements that make Luxology's modo 501 the best upgrade yet.

This course is a beginner course, through intermediate lessons. And who's teaching you? Learn from Dan Ablan, the author of the "Official Luxology modo Guide" for both modo 201 and 301! Dan's 401 courseware has been the leading training course for Luxology. Dan Ablan has trained NASA, Hallmark Cards, Dell, and many others on modo. Don't learn modo from just anyone, learn from the author. Dan's training has helped hundreds of people not just learn, but understand modo.