aXYZ design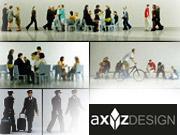 METROPOLY 1, PROFESSIONAL BUNDLES



CONTENT:
10 Ready-to-use Animated Scenes.
6 Ready-to-use Still Scenes.
80 Motion Capture Clips.
20 Rigged Characters.
23 Still Characters / 46 Poses.
1,2,3 Printed User Guide.


GEOMETRIES:
Optimized at ˜3500 Polys per character for an optimal deformation during the animation process.


RIGGING:
3DS Max Biped with Skin Modifier.


ANIMATIONS:

25 eMotion collection files.
35 edited motion clips ready-to-use with Motion Mixer or Motion Flow to create new animated sequences appending one

after another without the need of transitions.
20 ready-to-use long motion clips sequences.

* Motion files are in .bip format, include hand animation and has been cleaned.


TEXTURES:
Diffuse & Normal maps: 2048x2048px.


MATERIALS:
3DS Max Standard.


FORMAT:

Models are compatible with 3DS Max 8 or above.

* To obtain a high detailed character render you need to use the supplied normal maps. Ensure that the 3d software

you are using supports normal mapping technology.


UNITS:
Meters and Inches.



About aXYZ design :


Innovative and easy to use computer graphics product!
aXYZ design provides 3D products and services and specializes in the creation of digital content.Human characters in 3D scenes becomes ever more important in visualizations, animations and illustrations.To satisfy all your 3D model and character animation needs, aXYZ design provides State-of-the-Art 3D products including Photorealistic Tpose, rigged, animated plug & play and still 3d people models, high quality textures, and more in a variety of formats including max, obj, lwo, fbx, bvh and bip.

aXYZ design, manufacturers and markets an award winning line of 3D people models for accelerating user productivity. As the worldwide leader in 3D characters development, aXYZ design serves the distinct needs of a diverse set of industries and creative professionals. Any design professional using 3D software can revolutionize the way they work with aXYZ´s products.

www.axyz-design.com 3D marketplace allows users to purchase 3D models, mocap data and textures in fields from architecture to game development and everything in between, to speed up and to streamline entire work production processes. aXYZ design clients can save hundreds, if not thousands, of dollars of work and time by purchasing our 3D human models, real actor animations and textures.

Max Pioneers in providing 3D character modeling and animation resources, we have what you need for every project in our extensive library of premium 3D products. aXYZ design serves up a virtual cornucopia of assets available in an assortment of formats, such as 3D Studio MAX, OBJ, Lightwave LWO and MotionBuilder FBX to guarantee the compatibility with Maya, Poser, Cinema 4D, Blender, Modo, TrueSpace, LightWave and Softimage, among others.Here you will find the most innovative source for all your virtual humans modeling and animation needs.

The unique framework of the aXYZ design site has allowed us to bring together the best 3D models out there.Each high-quality product in this comprehensive collection of 3D humans is modeled with meticulous attention to detail, and all of the 3D tpose, rigged and still characters are textured for photo-realistic rendering.As a leader in our industry, we strive to ensure that you get the most out of our products. Our vast storehouse of digital models and animation can help you be more productive, more creative and more efficient. You'll save yourself time and money by purchasing and downloading existing models and textures from www.axyz-design.com.

Why waste time building it from scratch when we've already done it for you? Minimize the time you spend searching for 3D people models and maximize your own time making fantastic renderings and animations with our 3D tpose, rigged, plug & play or still models.

Continuous research, development of new techniques, and the joint work of a multidisciplinary team of professionals make our company a place of constant interchange of ideas and realization of projects. This combination of individual talents leads to an only main result: the full satisfaction of our clients.