NVIDIA® 3D Vision™ Pro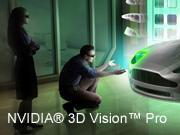 Immerse yourself in a true 3D, collaborative visualization experience, and see detail that was never possible before.


NVIDIA® 3D Vision™ Pro and NVIDIA® Quadro® professional graphics solutions deliver the highest quality and most advanced stereoscopic 3D environment, enabling designers, engineers, digital artists and scientists to see and share their work in true 3D.

3D Vision Pro glasses and Quadro graphics provide an easy to use, robust solution for driving 3D visualizations on a range of display options, from a single desktop panel to massive, multi-projector power wall or CAVE.

This unique 3D solution combines 3D Vision Pro active shutter glasses and a robust radio-based control hub with 120Hz panels and projectors. Professionals can design, create and explore in stereoscopic 3D enabling collaborative workflows that dramatically speed up time to insight.