aXYZ Design - New Site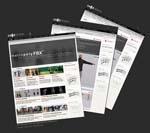 aXYZ design has great news!
We have renewed our website to a more flexible and communicative style.
The site structure is clearer and a search engine is now available to find the product that best fit your needs.
New selections has been added.
We invite you to visit it and discover yourself all these new features!
NOVEMBER NEWS!
This models in FBX format allows to easily transfer your animations to any 3D package that supports FBX