Weapon Rendering Competition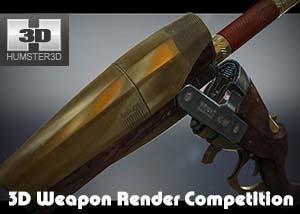 Humster3D studio opened a competition for 3D artists for the best weapon render. Since there are few competitions on this interesting topic we believe that this event will be of interest among our readers.

We were so pleased holding the competition and supporting people in their creative work, that we couldn't help but organize one more. This time the theme of the contest will be as follows: "Weapon". We believe this topic is attention deprived on the Internet as regards 3D graphics. What a pity! Nowadays no game goes without a gun or machine-gun. Furthermore, the field for inventing new concepts is so wide that there is no need even to talk about it. Just remember all these fantasy books and movies where the characters have a very interesting weaponry, which is the part of their image.
Therefore, we are sure that this competition will be of much interest first of all for primarily game developers, character designers and weapon fans. -CLICK HERE-