SketchUp Podium Released!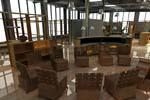 OhYeahCAD.com - Podium a New SketchUp rendering plug-in version 1 released.
SU Podium is a photo-realistic rendering software program that works entirely as a plug-in to SketchUp Pro 5 or Google SketchUp.
You can now make TRUE photo-realistic rendering of your SketchUp model without the pain and frustration of learning a complex program. Podium runs completely inside SketchUp from start to finish. It uses SketchUp features such as textures, background colors, groups and shadows to achieve impressive results. Podium is intuitive to SketchUp users. Plus, its simple interface cuts the learning curve to minutes instead of days. Make an impression without the pain.