Google SketchUp 6 Released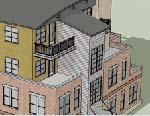 Google SketchUp Pro 6 released and is a free upgrade.

With Google SketchUp Pro 6's LayOut (beta) feature, you can integrate 3D models with 2D elements like photographs, artwork, text, title blocks – even handwritten notes – to create compelling interactive presentations. LayOut (beta) also enables you to output large-format, high-resolution documents. In a single program, Google SketchUp Pro 6 combines high-quality 2D design tools with the ability to manipulate dimensionally accurate 3D models with CAD-like precision and scale.
New Features
Google SketchUp Pro 6 lets you create 3D models from photographs, match existing models to background photos, render sketchy effects and fog and mark your models with 3D text, logos and watermarks. With the new styles palette, you have easy access to a collection of display settings, which you can save and share. You also have greater control, with new features like enhanced modifier keys that let you perform operations like "copy" while you move, rotate or push/pull. If you use Google Earth, Google SketchUp allows you to place your models using real-world coordinates and share them with the world using the 3D Warehouse.
Google SketchUp 6
Product Download