CG-India SketchUp Review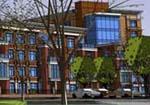 CG-India SketchUp review. Check out the review of SketchUp.
SketchUP, was first introduced by @Last Software, a small group of AEC software industry veterans. Google and @Last Software comes together while working on development of Google Earth Plug-in for SketchUP, and knowing the potential of SketchUP, Google end-up acquiring @lastsoftware in somewhere around March of 2006. SketchUP or Google SketchUP is a simple, yet amazingly powerful tool for creating, viewing, and modifying 3D ideas quickly and easily. Though it had been developed for the conceptual stages of design, SketchUP is more than a powerful 3d tool for creating presentations....................................