CGarena: Project Management Tutorial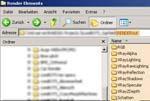 CGarena: Project Setup Management and Quality Assurance for Small Business.

This Tutorial is dedicated to freelancers and technical directors in smaller companies who aren´t blessed with an alienbrain server and haven't set up Asset Tracking yet. It covers Project Setup with a VERY handy slightly modified script by Ross Marshall and quality assurance for a consistent production if you take some steps to heart.