Maxwell Render dot: Online Magazine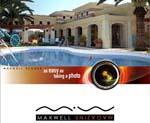 Maxwell Render dot Announces free online magazine.
Maxwell Render dot it has the pleasure to announce the release of number 00 of the first magazine for Maxwell Render: Maxwell Magazine.
In format pdf, partially in English and partially in Italian, the magazine is born thanks to the engagement of the Maxwell Render customers and contains in this number, beyond to important resources and tutorial, one exclusive interview to Victor Gonzales CEO Next Limit.
Download Magazine (without .it registration) here.