NL Maxwell Render for Rhino 4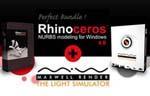 Next Limit Technologies is pleased to announce the release of Maxwell Render for Rhino 4.
This versatile new plug-in has received excellent feedback from beta-testers, including the McNeel team, who acclaimed it as "the best plug-in in Rhino history".
Some impressive new features include:
- Complete Maxwell Render Scene creation, management, and rendering without ever leaving the Rhinoceros environment.
- Support for the built-in Rhino Animation Tools
- Modeless, dockable tool-window inside Maxwell material editor and implementation of an Interactive Color Temperature picker, enable/disable all textures, Material delete/ undelete, pack and go and more.
- Maxwell Material and MXM browsers with fully resizable Material thumbnails, drag-and-drop functionality and more.
- The list doesn't end here. For a complete overview of features and plug-in videos, please go here.
Already a landmark in the 3D application market, the new Rhino 4 release will raise the bar even further, stunning users with its unparalleled quality and ease of use. Maxwell Render, one year after its release, is fast becoming the standard in rendering for those who are looking for top-quality visualization. More than 2,000 Rhino users have joined the Maxwell community, acknowledging this ideal combination of tools.
Carlos Perez from McNeel Europe said: "The ease of use of Maxwell Render, which works exactly like a camera, and the impressive quality of the lighting, makes it the ideal complement for Rhino users, whether they are jewelers, architects or car designers." He added: "Next Limit's team is very sensitive to its users' requests and has an excellent technical support service. Without doubt Next Limit is one of our partners most in tune with the McNeel philosophy."
To celebrate the Rhino 4 and the Maxwell plug-in releases, Robert McNeel & Associates and Next Limit Technologies have agreed a joint venture, providing a Bundle between Rhino 4 and Maxwell Render. The bundle of both products is available at a greatly reduced price of $695 (Rhino 4 upgrade and Maxwell Render) or $1,395 (Rhino 4 full license and Maxwell Render), giving Rhino users an exclusive $595 discount! This offer is valid from March 1 until May 31, 2007. For more information visit here or contact your local reseller.