Shrubs and Ornamental Grasses Vol. 2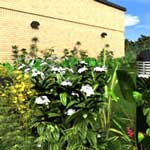 Archvision releases Shrubs and Ornamental Grasses Vol. 2
Ideal for landscaping projects and corporate settings, Shrubs and Ornamental Grasses Vol. 2 enables you to create realistic foliage in your scenes.
This collection contains a diverse selection of shrubs and ornamental grasses including: Hydrangea (Big Leaf), Fountain Grass (Crimson), Elephant Ear, Barberry (Wintergreen), Fern (Recurved Broadwood) and many more popular shrubs and grasses.
Click here to Preview and Order. Buy it now for only $379.00.