Topiary Plants Textures Pack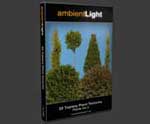 AmbientLight releases Topiary Plants Textures Pack with a special price for registered members & existing customers.
Plants Vol 3 Topiary- ALT028 - 35 Mb - Downloadable .zip
ambientLight is pleased to announce the immediate availability of the Topiary Plants Textures Pack plus a special price for registered members and existing customers!!
This pack is available to you at an introductory 50% discount until the end of March 2007! You can view the full details and thumbnails from the link below.
Topiary Plants Pack - Regular Price GBP £15.00 - view full details on ambientLights website here
To purchase this pack at the introductory price please visit the page below and add the discounted pack to your cart. Please note this page is only for the special price purchase, full information and thumbnail previews are on the full product page above.
Topiary Plants Texture Pack - Special Price GBP £7.50 - purchase at special price from this page
Containing 22 Various images of Topiary Plants, this pack can be used for adding planting detail to CG Scenes and Compositions.
Each of the 22 Plants is provided with a diffuse and alpha/clip map for scene integration.
Texture sizes range up to 3500 pixels tall or wide
We have included up to 4 images of each plant in this texture pack. This will allow some variation in the images you are using and help to avoid noticeably using the same image multiple times for a more lifelike result in your final image.
The images in this collection have been created primarily for use in architectural visualisation and other CG projects but can be applied in many different areas. These textures can be used in any software capable of importing jpeg image files as textures.