GPU-Tech launches RTSquare for Maya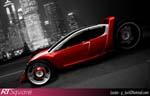 GPU-Tech Already available as a plug-in for 3dsMax and VIZ, GPU-Tech now launches RTSquare for Maya.
You can download it for free on the company's website. RTSquare is the first entirely GPU-based renderer which uses a new shader technology to render great images at high speeds. By using the graphic card to carry out the entire rendering process, you can reduce your rendering time by 10 to 50.
The numerous rendering options available allow you to make stunning images and animations in fractions of the time. Save time, energy and boost your creativity. RTSquare's simple interface and easy to use options make it a tool of choice.
GPU-Tech's RTSquare for Maya here.