ArTect Online Magazine Launches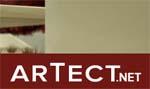 ArTect online design magazine has been launched. Fellow artist Oliver Zeller has just launched an online magazine focussing on design.
Initial articles indicate that it will focus on architectural visualization, automotive design and product illustration. Oliver has a strong portfolio of work and it will be interesting to see the site evolve.