Maxwell RenderIt Magazine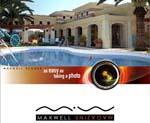 Maxwell Render dot it has released the second issue of Maxwell Magazine.
In format pdf, partially in English and partially in Italian, the magazine is born thanks to the engagement of the Maxwell Render customers and contains important resources and tutorials.
• Interview with Gianni Melis. Italian CG artist.
• Contest Render Tutorial by Patrick Panda.
• Using Thomas Luft's Ivy Generator with Maxwell by Tim Ellis.
• Glare System. The diffraction of light by Tiziano.
• The material editor by TIziano.
• Plugin area: ArchiCAD, Cinemaxwell, 3DSMax.
• Gallery.