DOSCH 3D: Trees for Maxwell Render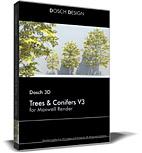 Dosch Design releases Tree & Conifer Pack for Maxwell Render.

The product DOSCH 3D: Trees & Conifers V3 for Maxwell Render contains the 3D-models of Dosch 3D: Trees & Conifers in an optimized version for Maxwell Render from Next Limit Technologies. The completely textured 3D-models are directly provided in the Maxwell Render format (.mxs). And all materials have been optimized for the direct use in Maxwell Studio.