Graphisoft Announces ArchiCAD 11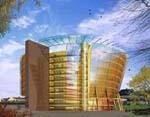 Graphisoft® announced today that Graphisoft ArchiCAD® 11 will ship on both platforms mid-May.
ArchiCAD 11 Overview – The three main areas of enhancement are Coordination, Control and Virtual Building functionality, each of which provide users significant improvements in design,
Collaboration and drawing generation.
Coordination – helps users better coordinate documentation sets, work with the internal project team and work with external consultants.
Virtual Trace allows live coordination among all model views (floor plans, sections and elevations, etc.), drawing views and layouts. These live views can be used as "Reference Views" beneath the active view as a temporary editing aid. With Virtual Trace, the 3D model of a building can easily be coordinated to eliminate design errors at any phase of the project. Virtual Trace also helps to ensure that the architectural drawing set is properly coordinated both internally and with external consultants such as structural and mechanical experts. Coordination errors are one of the main reasons projects go over budget and fall behind schedule.

Visual Compare greatly extends the functionality of Virtual Trace by enabling users to find differences between model and drawing views in the ArchiCAD work environment as well as drawings imported from external consultants. With this innovative solution, coordination becomes a natural part of the design process.

Control – enables users to better control the quality and level of detail in documentation sets.
Worksheet Tool provides a dedicated environment for editing 2D drawings generated from the model as well as for creating, editing and checking drawings that are generated entirely in 2D.
The Worksheet Tool allows for the optimization of the workflow in a manner most comfortable for the individual users. It enables companies to take maximum advantage of a team's expertise and to integrate documenters into the Virtual Building process while also improving the quality of documentation.
Intelligent Markers provide a unified logic for creating cross-references between traditional architectural views - such as horizontal and vertical sections - and all types of detail drawings in
the Virtual Building environment. This functionality provides dramatically more flexibility in how a user can organize and navigate through drawing sets.
Virtual Building enhancements – increase the productivity and flexibility of working in the Virtual Building environment. A partial list of functionality includes:
Curved slanted walls raise modeling freedom to an unprecedented level with the intelligence of Virtual Building automatic wall intersections.
Interior Elevations – Creates un-folded interior model views of even the most complex shaped room. With its auto-placement rules, Interior Elevations of a room can be placed on a layout in an organized fashion with a single drag & drop action. This provides dramatic productivity improvement for users.
Multi-story hotlink modules allow users to more efficiently create and maintain multi-story building parts such as staircases, mechanical engineering shafts or entire vertical building units.
Updates on multi-story buildings are significantly faster.
DWG 2007 support.
Google 3D Warehouse (TM) – This capability moves users past the Virtual Building to the virtual world. Users can not only download 3D models from the Google 3D Warehouse for use in
their projects, but they can also publish their designs to the Warehouse as well enabling the model to be displayed in Google Earth (TM). ArchiCAD is the only BIM system that enables both capabilities.