Caligari Announces trueSpace 7.5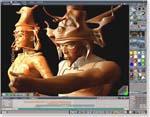 Caligari releases trueSpace 7.5 with style based character animation and improved Lightworks rendering.
trueSpace7.5 is a powerful tool for illustration, design, games, video or film animation. It is also well suited for content creation of emerging 3D social networks such as Second Life or Playstation3 Home.
trueSpace was always well known for its intuitive direct manipulation user interface. trueSpace7.5 retains that, while enabling real time collaborative 3D authoring of geographically distributed participants.
trueSpace7.5 real-time renderer goes beyond trueSpace7.0's supersampling and glows, adding realistic transparency, alpha shadows, real-time environment reflection, mirrors, video projectors and other new features. It gives you unprecedented feedback, speed and quality for modeling, previews, even instant renders.
Built-in render engines:
The latest edition of the Lightworks engine now provides faster speed and HDRI capabilities.
Virtualight Renderer is now seamlessly integrated into trueSpace7. It supports caustics as well as Global Illumination.
The real-time DX9 renderer in trueSpace7 has approached photorealistic quality while preserving real time interaction with your work.

Third Party render engine available:
V- Ray for trueSpace makes professional rendering affordable to all, and makes it easy for anyone to create realistic materials and lighting with fast rendering times. It's easy to give a list of features, but what is really important are the effects they let you produce.