GPU-Tech Releases RTSquare for 3DSMax 9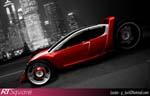 GPU-Tech releases RTSquare a GPU-based rendering plug-in compatible with 3DSMax 9 (64)


RTSquare, the first entirely GPU-based rendering plug-in is now compatible with 3DSMax 9 in double precision. Using our novel GPU-programming technology, all our applications run on the graphic card in both simple and double precision and reduce computing time by up to 100.

GPU-Tech, a pioneer in stream computing aims at making 3D graphics accessible for a larger audience by harnessing the graphic cards power in order to speed up the rendering process without foregoing on quality. One of the main objectives is to make sure that applications are compatible with the majority of graphic cards already available on the market irrespective of the manufacturer. Compatibility with 64 bits is a breakthrough in gpu-computing and ensures software up to date with technological advances.

There is already a free version of RTSquare for 3DSMax 6, 7, and 8 available for download on the GPU-Tech website. RTSquare for 3DSMax 9 comes to complete the series and an evaluation version is available for download as well. RTSquare has also been developed for AutoDesk VIZ and Maya and development is ongoing for other 3Dstudios.