aXYZ-Design Metropoly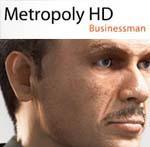 aXYZ-Design - Metropoly HD Businessman ready and rigged!
High Resolution Model
BMan0001-HD-CS
Ready rigged and animated character for 3D MAX 8.0
Designed for close up views!
Content: 1 Full Body & Hand rigged 3D-Human model ready to be animated.
Rigged with SKIN modifier.
1 High Quality walking motion file ready to use.
Geometry: 30.000 polygon.
Model is optimized for an optimal deformation during the animation process.
Hair: Max 8.0 Hair & Fur modifier.
Textures: Difuse maps: 2048x2048px
Specular maps: 2048x2048px
Normal maps: 2048x2048px
Model format: 3d Studio Max 8.0
Mocap file format: Bip