e-onSoftware Vue 6 xStream XSI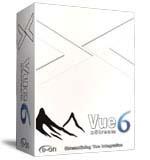 e-onSoftware releases SoftImage XSI compatible version of Vue 6 xStream.
Vue 6 xStream for Softimage XSI is the latest addition to the list of xStream-compatible applications, alongside 3ds Max, Cinema 4D, LightWave and Maya.
Thanks to Vue 6 xStream, Vue environments will become a seamless part of the XSI scenery. In one single render pass, XSI elements will be rendered together with Vue elements, accurately matching shadows, reflections and illumination to deliver seamlessly blended CG footage without requiring any additional compositing.
Vue 6 xStream for XSI is available right away, and starts at $895 (Download version, nodelocked license). If you already own Vue 6 xStream, you can add XSI compatibility by purchasing an "xStream 6 Extra Renderer License" for $199.