SOFTIMAGE|XSI 6.5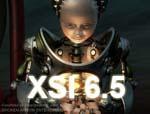 SoftImage releases XSI 6.5 with a new feature distribution and pricing of plans.
There's never been a better time to get into XSI. Now in version 6.5, XSI Essentials includes XSI Hair & Fur, as well as Syflex Cloth, while XSI Advanced comes with 5 licenses of XSI Batch rendering for up to 36 nodes of mental ray rendering power!
SOFTIMAGE|XSI is the most advanced 3D animation software for games, film and television. Now you can model, animate and render with unparalleled performance. The XSI Gigapolygon core, capable of handling massively detailed models with millions of polygons, is the number one reason why leading entertainment companies are switching their next generation projects to XSI. Built on the newest code base and designed for the way the artist thinks, XSI empowers you to bring your creative vision to life.