Vizdepot - Lighting & Materials Challenge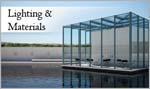 Vizdepot has a rendering challenge going on in their forums focussing on lighting and material. Check out the great site, the admin and moderators aren't too shabby either.

This charrette is a learning exercise for developing your lighting and material skills. You may choose to render the scene with any material(s), as well as manipulate the scene to establish a composition. Develop an idea or story you are trying to convey when considering the composition. You may choose any camera angle. Light and apply materials to this scene. We encourage the use of new techniques which provoke questions, like the use of the uvw map modifier or the unwrap uvw modifier.